Beauty Routine Interview in Sauce Magazine
Jordan Rondel is 50% left-brainer and 50% right-brainer. She is equally creative as she is in tune with her successful baking business—The Caker. Jordan has also written two recipe books: The Caker—Wholesome Cakes, Cookies and Desserts and The Caker—45 New & Unusual Cake Recipes. In addition to all of the above, she has also launched Pre-Mixed Cakes and Cookie Mixes creating fail-proof and incredibly delectable treats. Jordan is onto it, and we love it. So how did it all happen?
In 2010, Jordan officially started selling cakes via The Caker—her blog (at the time)—and the rest is history. Baking runs in Jordan's blood. Her great-grandfather was a pastry chef in Paris, who continued his art (even during wartime) and then passed it on to her grandmother, and it eventually let its way to Jordan.
And yes, Jordan's cakes are ridiculously deliciously, but the sartorial element that makes her brand so unique is in the way she styles and presents her cakes. Undeniably, it's an extension of her personal style.
And we have to admit it—her approach to beauty is just as cool as her cakes! We chatted about her love for glitter eye make-up, glossier bow-brow, skincare routine and more.
ON CAREER:
I have been obsessed with baking cakes ever since I can remember. As I grew up I practiced constantly. The kitchen became my domain and I knew it was where I wanted to be, always. During the final stages of my University degree, I began to seriously bake in earnest. People were becoming interested in what I was doing, and the innovative ways in which I was creating treats. In 2010, upon graduation, I was working part time. Increasingly, the rest of my time was spent baking, and my reputation was beginning to require that I make a life-changing decision. In 2010, I went for it. I officially began The Caker, selling cakes through my blog. I was 21 years old and the rest is history!
RELATIONSHIP TO BEAUTY AND SELF-CARE:
I would describe it as a fairly casual relationship currently! But I am learning how to make more time for self-care and my beauty regime, and it's paying off.
MORNING SKINCARE ROUTINE:
I wet a muslin face cloth with hot water and hold it against my face for 30 seconds. Next I moisturize with Shiseido WASO Clear Mega Hydrating Cream and let that sink in for a few minutes while I brush my teeth. And then I go about putting on some makeup.
MAKEUP ROUTINE:
When it comes to doing my makeup, I always focus on my eyes.
Often my eye makeup will be dictated by what I'm wearing that day - for example, if I'm wearing something really casual I like to go a bit more extreme with my eyeliner, and incorporate some glitter too. I'm obsessed with my pressed gold glitter shadow by Chanel and my range of Stila Metal Liquid Eye Shadow products. If I'm already wearing something pretty colourful or out there, I'll tone down the eye makeup. Aside from eye makeup I only ever wear a little bit of mineral powder on my skin, Glossier Boy Brow and sometimes a bit of MAC Blush. When it comes to my lips, I prefer brown or orange tones - never pink or red. My favorite lip product of all is my dark brown NARS Velvet Gloss Lip Pencil.
NIGHT-TIME ROUTINE:
Lately my skin has been feeling a little dry and sensitive so I've been washing my face gently with Cetaphil and a hot muslin face cloth. Next I use a few drops of The Ordinary Buffet and massage that into my skin. Finally I apply some EVE LOM Time Retreat Intensive Night Cream.
HAIRCARE ROUTINE:
I wash my hair every 2-3 days. I've been using EVO Shampoo andConditioner lately and it's been great. Once I week I'll do an Olaplextreatment before I wash my hair. This does wonders as I've put my hair through hell and back thanks to an obsession with changing up my hair colour all the time.
TOP TWO PRODUCTS :
MAC Mineral Powder and my black eyeliner pen.
BEST BEAUTY INDULGENCE:
A facial at East Day Spa followed by a shoulder and neck massage.
TOP FIVE FOOD ITEMS (IN MY PANTRY):
Almond butter, organic granola, Pana chocolate bars, Lurpak butter, a jar of Tahini.
ON WELLNESS :
I take a probiotic daily as well as a multi vitamin when I remember to. When I'm feeling a cold coming on I'll take Lypo-Spheric Vitamin C which work wonders.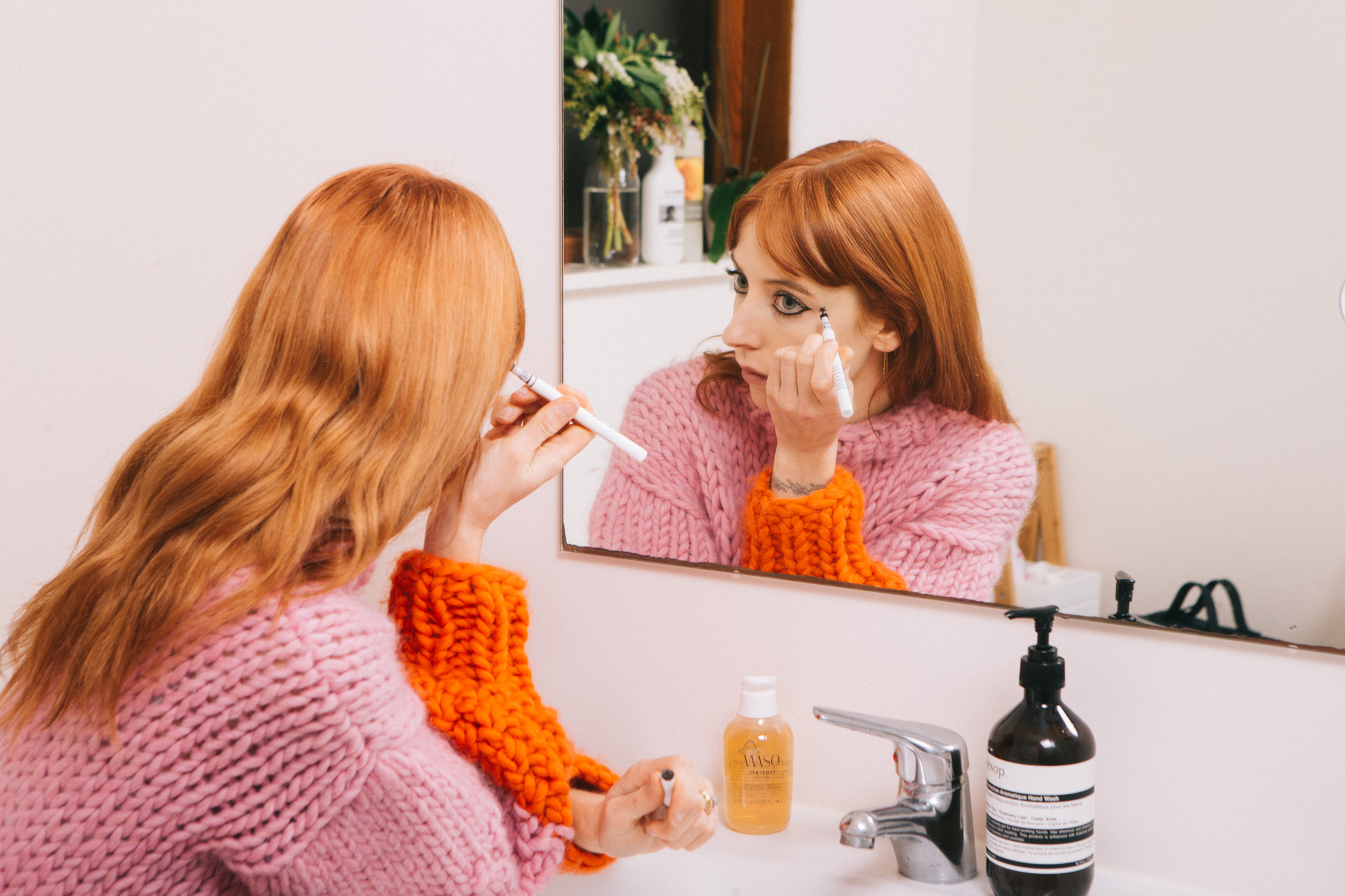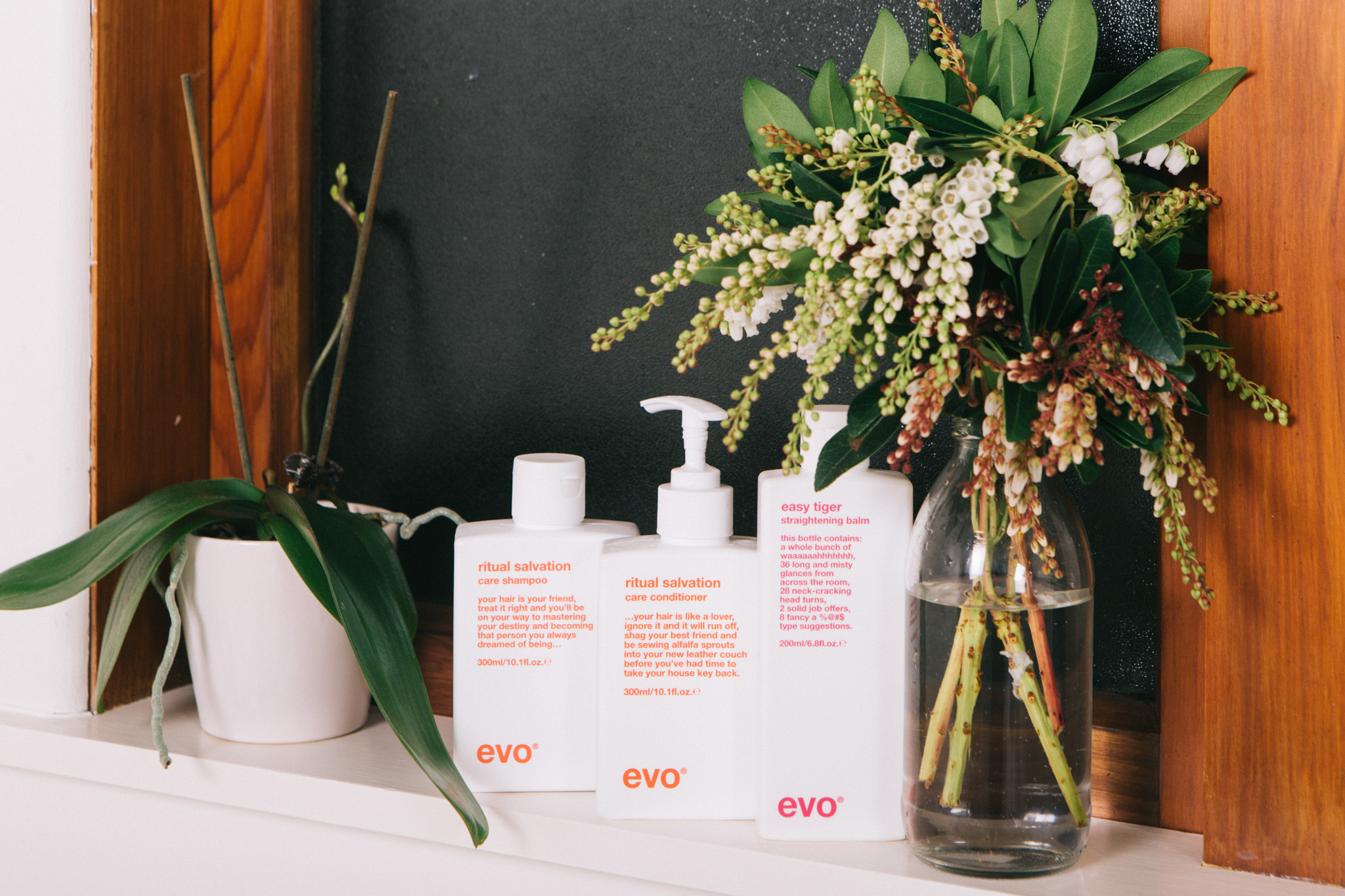 Jordan wears a two-tone jumper from The Knitter.
Photography | Wono Kim
Interview & Direction | Zeenat Wilkinson
Zeenat Wilkinson is the Founder and Editorial Director of Sauce. Her work as a fashion producer, writer, and freelance stylist can be seen in the likes of Vogue, Grazia, Nylon and Black Magazine, internationally, and locally in Fashion Quarterly, Viva/NZ Herald and more. 100% dog person.